Product ID : 10759

Manufacturer: Leica
Description
LEICA M-E ANTHRACITE GREY DIGITAL CAMERA BODY #10759 USA NEW!

PRODUCT # 10759
FREE SHIPPING WITHIN THE UNITED STATES!
2 YEAR LEICA USA WARRANTY

INCLUDES:

BOX
INSTRUCTIONS

BODY CAP
CARRYING STRAP

BATTERY
BATTERY CHARGER
SOFTWARE DOWNLOAD

Product Highlights
18MP Full Frame CCD Sensor

Fits Leica M-Mount Lenses

2.5" TFT LCD with 230,000 Pixels

Manual Focus with Optical Viewfinder

Omitted Low-pass Filter for Fine Detail

ISO Sensitivity Up to 2500

Low-Noise Shutter

All Metal Die-Cast Magnesium Body

Anthracite-Gray Finish with Leather Trim

Included Adobe Lightroom Software
Technical Details
Camera Type Compact digital view and rangefinder system still camera
Lens mount Leica M bayonet with additional sensor for 6-bit coding
Lens system Leica M Lenses
Top cover Milled brass top cover with classic M design
Material All-metal case made of die-cast magnesium; synthetic leather covering. Cap and base plate made of
brass.
Image sensor KAF-18500 18 MP CCD Sensor
Number of effective
pixels
18 million pixels
Sensitivity range ISO 160 – ISO 2500, pull 80 available, Auto ISO
Imaging platform DSP based computing platform with Leica imaging algorithms
Electronic viewfinder Not available
LCD monitor 2.5" TFT display with 230, 000 pixels
Shutter Closed type focal plane shutter for classic image exposure with external cocking mechanics
Shutter speed 1 / 4000 s – 240 s (in Bulb), 1 / 180 s flash synchronization
Burst rate Approx. 2 fps
Self timer Off / 2s / 12s
Storage media SD / SDHC Memory cards
Image file format DNG™ (RAW data uncompressed or nonlinear compressed), JPEG
File size DNG: 18 MB (compressed) / 36 MB (uncompressed), JPEG: Resolution and image content
dependent
Available JPG
resolutions
5212 X 3472 (18 MP), 3840 X 2592 (10 MP), 2592 X 1728 (4.5 MP), 1728 X 1152 (2 MP),
1280 X 846 pixels (1 MP)
Color spaces sRGB / Adobe ® RGB
White balance Auto / Daylight / Cloudy / Shade / Tungsten / Fluorescent 1 / Fluorescent 2 / Flash /
Manual / Kelvin 2000- 12800
Other functions Saturation, Contrast, Sharpening
Exposure metering Through the Lens (TTL) metering, center- weighted with variable aperture, center- weighted
TTL metering for flash exposure with system SCA- 3000 / 2 standard flash units
Exposure setting Manual shutter speed setting with direct dial, A- Mode with direct dial
Exposure modes Automatic shutter speed (A- Mode), Manual exposure (M- Mode)
Exposure
compensation
- 3 EV to + 3 EV, 1/3 f- stops
Exposure bracketing 3 / 5/ 7 frames, 0.5 / 1 / 1.5 / 2 f- stops
Flash exposure
metering
Control with center- weighted TTL pre- flash metering (with SCA- 3501 / 3502 adapter, or
SCA- 3000 standard flash unit such as Leica SF 24D / Leica SF 58)
Hot shoe SCA – 3502 compatible hot shoe with center contact
Flash synchronization Optional triggered at first or second shutter curtain
Flash synch time 1 / 180 s
Focusing methods Manual focus with optical rangefinder
Optical viewfinder Large, light bright- line rangefinder with automatic parallax compensation, optical
illumination
Optical viewfinder
frame lines
Framelines size matches image sensor size at 1 m focusing distance
Optical viewfinder
correction
Eyepiece adjusted to 0.5 dpt. Corrective lenses from - 3 to =3 dpt available (optional)
Optical viewfinder
magnification
0.68 x
Optical viewfinder
displays
LED symbol for flash status (at bottom). Four- digit seven- segment LED digital display,
brightness adapted to ambient conditions, for, Warning in case of exposure correction:
display of automatic shutter speed in automatic mode, advisory indicating use of metering
memory lock. LED exposure monitor with two triangular and one central circular LED with
manual exposure setting and for focus confirmation.
Rangefinder Split of superimposed image range finder shown as a bright field in the center of the
viewfinder image.
Rangefinder effective
metering basis
47.1 mm (mechanical metering basis 69.25 mm x viewfinder magnification 0.68 times)
Start up time < 1s
Power supply Li- ion battery (included), 3.7 V, 1860 mAh
Horizon No
User profiles 4 profiles
Sensor cleaning Manual cleaning function
Tripod thread A ! (1/4") DIN made of stainless steel in base plate
Dimensions (W x D x H) approx.. 139 x 42 x 80 mm (5.5 x 1.7 x 3.1 in)
Weight (incl. batt.) 585 g (20.6 oz)
Operating
temperature
0° C – 40 ° C
Menu languages English, German, French, Italian, Spanish, Russian, Japanese, Traditional Chinese, Simplified
Chinese
Accessories Battery, Charger with power cables for EU and USA (different in some export markets), 12 V
charging cable, carrying strap, body cap
Software licenses
supplied
Adobe ® Lightroom ®
New optional
accessories
All accessories that are made for the Leica M9 / M9- P
Products You May Like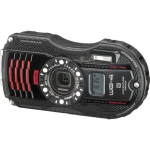 $377.00
Sale Price:
$327.01
Product is out of stock